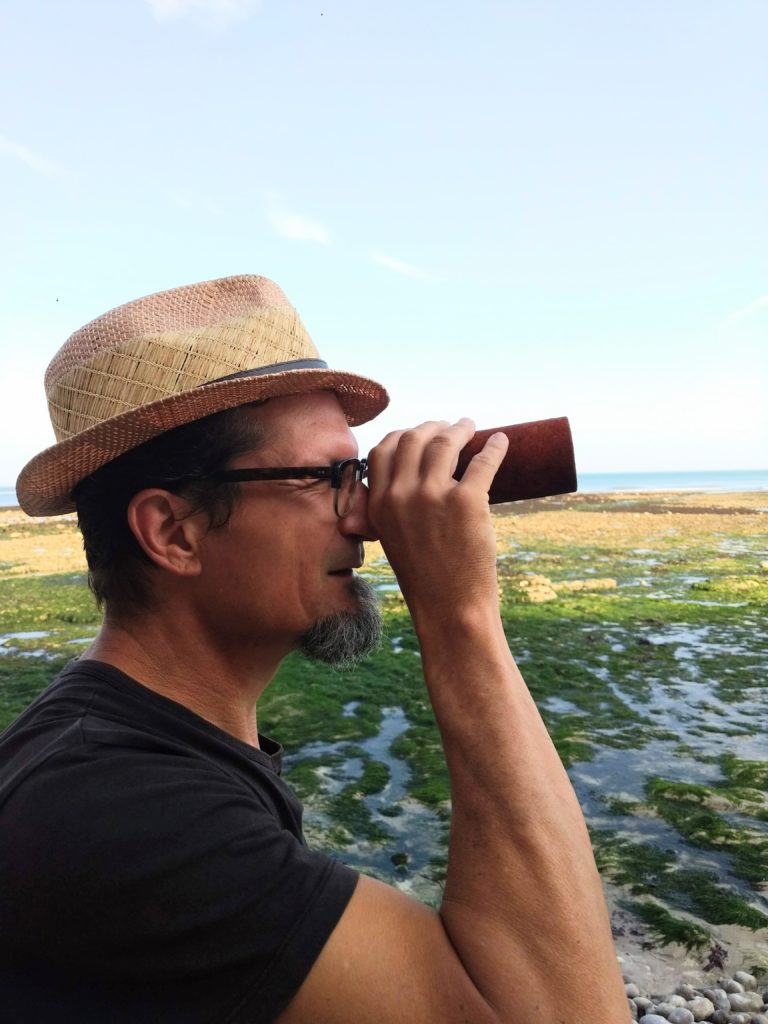 Artwork
Roy looks at the world through surrealistic glasses in which he mixes his critical view with a touch of black humor and philosophical reflections. The lines are generally smooth, clear and delicate.
When drawing, he lets his mind run free and all daily thoughts take shape. His drawings are a reflection of our sometimes absurdist daily life and how we live in our world and relate to each other. The drawings surprise and entertain you at the same time.
Roy has always drawn, painted, etched and made monotypes. Since 2015 he has also been making visual work, taking his drawing as a starting point.
Roy and computers are not a good match, his works are never enhanced or adjusted with computer programmes. Only real handwork.
Applied work
In his applied work, Roy is mainly characterized by his speed, sensitivity and sculpture skills. Just as easily as he draws, he converts 2D work into a 3D image.
His specializations are: Shaping, set and advertising painting and wood construction.
Travail artistique
Roy regarde le monde à travers des lunettes surréalistes, mêlant son regard critique à une touche l'humour noir et aux réflexions philosophiques. Les lignes sont généralement lisses, claires et sensibles.
Lorsqu'il dessine, il laisse libre cours à son esprit, ce qui permet à toutes les pensées quotidiennes de prendre forme. Ses dessins sont le reflet de notre vie quotidienne parfois déjà absurde et de la façon dont nous, en tant qu'êtres humains, nous tenons dans le monde et sommes liés les uns aux autres. Les dessins vous étonneront et vous divertiront en même temps.
Roy a toujours dessiné, peint, gravé et réalisé des monotypes. Depuis 2015, il réalise également un travail visuel dans lequel il prend ses dessins comme point de départ.
Roy et les ordinateurs ne font pas bon ménage, son travail n'a jamais été amélioré ou modifié à l'aide de programmes informatiques. Uniquement de l'artisanat pur
Travail appliqué
Dans son travail appliqué, Roy se caractérise avant tout par sa rapidité, sa sensibilité et ses talents de sculpteur. Aussi facilement qu'il dessine, il convertit une œuvre 2D en une image 3D.
Ses spécialisations sont : Façonnage, décoration des décors de théâtre, peinture publicitaire et construction bois.
Roy van der Horst commissioned:
Objects and images for companies
Paintings, illustrations, drawings, monotypes and etchings
Production of sets and props for national and international theater performances and musicals commissioned by decorators.
Clients:
Theater Rotterdam (Rotterdamse Schouwburg)
Scapino Ballet Rotterdam
Ro Theater
Wunderbaum
de Utrecht Spelen
Productie huis Rotterdam
Maastheater
Akram Kahn Dance Company
private assignments
Contact me to discuss the options.
portret in opdracht van Maastheater ©2017