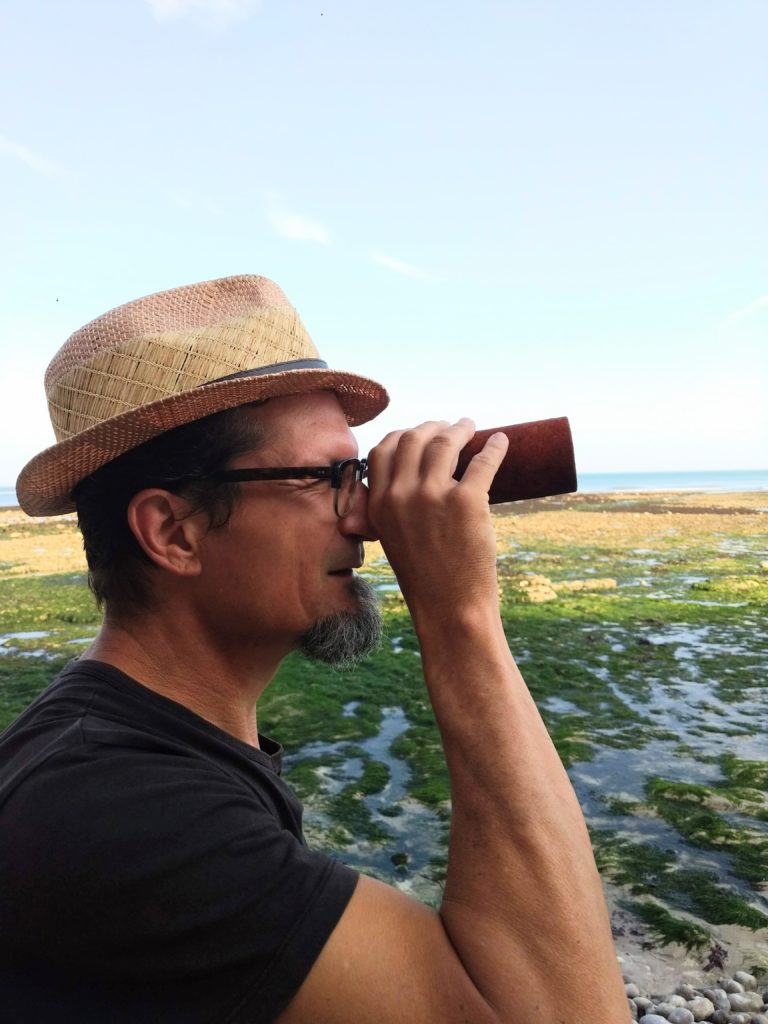 Artwork
Roy looks at the world through surrealistic glasses in which he mixes his critical view with black humor and philosophical reflections. The lines are generally smooth, clear and delicate.
When drawing, he lets his mind run free and all daily thoughts take shape. His drawings are a reflection of our sometimes absurdist daily life and how we live in our world and relate to each other. The drawings surprise and entertain you at the same time.
Roy has always drawn, painted, etched and made monotypes. Since 2015 he has also been making visual work, taking his drawing as a starting point.
Roy and computers are not a good match, his works are never enhanced or adjusted with computer programmes. Only real handwork.
Applied work
In his applied work, Roy is mainly characterized by his speed, sensitivity and sculpture skills. Just as easily as he draws, he converts 2D work into a 3D image.
His specializations are: Shaping, set and advertising painting and wood construction.
Kunstzinnig werk
Roy kijkt naar de wereld door een surrealistische bril waarbij hij zijn kritische kijk mengt met zwarte humor en filosofische  overpeinzingen. De lijnvoering is doorgaans vloeiend, helder en fijngevoelig.
Bij het tekenen laat hij zijn geest de vrije loop waarbij alle dagelijkse gedachten vorm krijgen. Zijn tekenwerk is een afspiegeling van ons soms op zich al absurdistische dagelijks leven en hoe we als mens in de wereld staan en tot elkaar verhouden. De tekeningen verwonderen je en vermaken je tegelijkertijd.
Roy heeft altijd al getekend, geschilderd, ge-etst en monotypes gemaakt. Sinds 2015 maakt hij ook beeldend werk waarbij hij zijn tekenwerk als uitgangspunt neemt.
Roy en computers gaan niet samen, zijn werk is nooit verbeterd of aangepast met behulp van computerprogramma's. Alleen puur handwerk
Toegepast werk
In zijn toegepaste werk kenmerkt Roy zich vooral door zijn snelheid, fijngevoeligheid en beeldhouwtechnische vaardigheden. Net zo makkelijk als hij tekent, zet hij 2D werk om in een 3D beeld. 
Zijn specialisaties zijn: Shapen, decor- en reclameschilderen en houtbouw.  
Roy van der Horst commissioned:
Objects and images for companies
Paintings, illustrations, drawings, monotypes and etchings
Production of sets and props for national and international theater performances and musicals commissioned by decorators.
Clients:
Theater Rotterdam (Rotterdamse Schouwburg)
Scapino Ballet Rotterdam
Ro Theater
Wunderbaum
de Utrecht Spelen
Productie huis Rotterdam
Maastheater
Akram Kahn Dance Company
private assignments
Contact me to discuss the options.
portret in opdracht van Maastheater ©2017